The Orbox Operator Panel is an area specially developed to allow the supervision of calls, with features that aim to improve the efficiency regarding to communications management.
This tool allows you to view your users more intuitively and also monitor calls in real time - allowing you to check who is available at the moment, the duration of calls, all existing extensions, among others.
From this area, it is possible to redirect calls to other extensions or groups, in order to optimize customer service.
Orbox's operations panel allows effective call monitoring, which can be used to check the skills of your users, improve the customer experience and even provide additional training to your team. The person in charge can even hear a call in real time and/or access its recording, to review an important issue that was discussed, to check if the organization's rules were met or even to improve the service.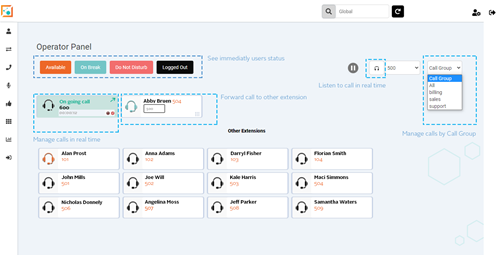 Main advantages:
- Accessible from a web browser
- Intuitive and accessible interface for any user
- Real-time call management through a simple click
- Change user status to avoid missed calls
- Transfer calls
Want to see the Orbox operations panel in action?