Is your fleet ready for Summer?
Summer is just around the corner!
What does this mean for fleets and their management?
Obviously, fleet management can be a challenge at any time of year. However, in summer, it is necessary to be more attentive to vehicle maintenance issues, driver health risks and operational challenges.
In this article, we'll give you some tips to optimize your fleet management during the summer.
Extra care with vehicle maintenance
The main concerns in summer fleet management should be the engines, because high temperatures affect engine performance and lead to downtime. Engine overheating is one of the most common problems during this time of year.
Prepare with reminders and data in real time
It is essential for fleet operators to ensure that, during the summer, vehicles remain in top condition. Their maintenance can be simplified with the use of a fleet management solution, which promotes predictive maintenance, allowing you to keep track of all scheduled maintenance and still keep a maintenance history on each vehicle.
By creating a recurring maintenance in the system, notifications will be sent to managers and drivers when the service is almost due, and information can be updated at any time.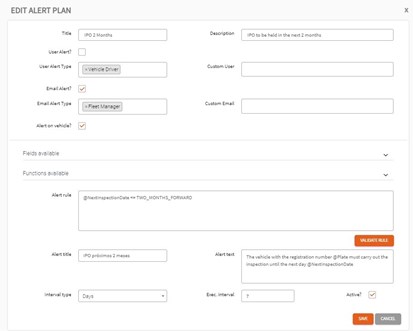 This way, managers can have access to accurate data and make a full analysis that allows to setup efficient strategies that will reduce fleet costs.
In addition to helping companies schedule and track periodic inspection maintenance, fleet maintenance software can store these maintenance records data so that reports can be generated to verify compliance.
Besides that, some fleet management software offer specific built-in features:
Vehicle and driver profiles: area where you can consult each vehicle specific data and driver history
Incidents reporting: manages events reported in the case of a accident or a maintenance service, allowing to register expected costs, attach files, having historical maintenance records on hand, in one place.
And also … a tiny detail that makes a huge difference!
If you want to keep your workers productive and happy, remember to keep air conditioning in top shape!